I am sure many of you must have heard about mortgage loans or mortgage rates at some point of time, many of you may or may not be aware of it.
Don't worry, in this article, we are going briefly discuss information like what is mortgage, what is mortgage rate is and how to apply for it etc.
But before that let us first know what the meaning of mortgage is.
What is a Mortgage
A mortgage is a loan that helps you purchase a house. Getting approved for one is the process of filling out paperwork, providing documentation, and being approved by the lender. It can be done by yourself or with the help of a mortgage broker.
 A mortgage loan is always taken against the property. In which a person who needs a loan pledges his property to a financial institution and takes some amount as a loan.
After paying the loan amount, he gets back the ownership of his property. Mortgage loans are also called home loans as these loans are generally taken by people to buy a new house.
A mortgage loan is taken against the registry of the house by pledging the documents of the newly purchased house with the financial institution.
What is Mortgage Rate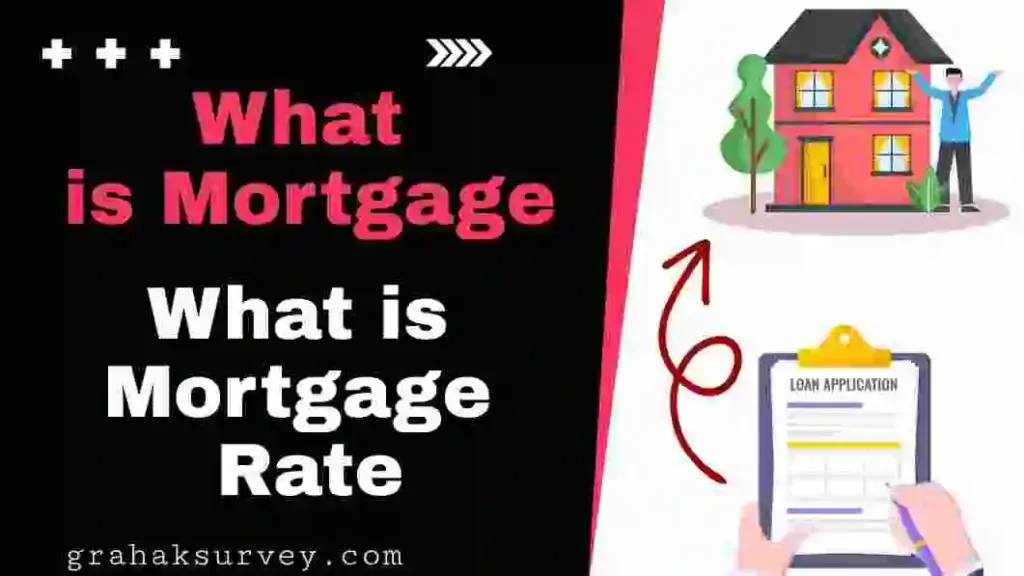 A mortgage loan rate is the interest rate that a borrower pays to a lender. The loan rate is normally expressed as an annual percentage and includes all costs of borrowing, including points, origination fees, and other costs.
The interest rate charged by the lender for the mortgage loan is called Mortgage Rate.
The interest rate on a mortgage is usually calculated over a fixed term, such as 30 years or 15 years. Some mortgages allow for monthly payments that are less than the total amount owed. This type of loan is called an adjustable-rate mortgage (ARM).
Mortgage loan rates are calculated based on the following factors:
-Rate of interest
-loan term
-loan amount
-Purpose of Loan
Mortgage loan rates depend on the loan-to-value ratio (LTV) offered by the lender, among other things. With the best lenders, the LTV can range from 70% to 75% of the market value of the property.
What Are the Different Types of Mortgages Available?
Mortgages are a type of loan that is used to purchase a home. The mortgage is the amount of money that is borrowed from the lender and then repaid over time with monthly payments.
There are many different types of mortgages, such as fixed-rate mortgages, adjustable-rate mortgages, and hybrid loans.
1. Fixed-rate Mortgage:- A fixed-rate mortgage has a set interest rate for the entire life of the loan. This means that you know exactly how much your monthly payment will be for the duration of your loan period.
2. Hybrid Loans Mortage:- A variable-rate mortgage has an interest rate that can change over time based on market conditions and other factors.
3. Adjustable-rate Mortgage:- An adjustable-rate mortgage (ARM) has an interest rate that can change periodically during the life of the loan but it will never exceed a certain percentage (usually 2% to 3%) in any one-year or over any one adjustment period.
How to apply for all mortgage loans?
To apply for a mortgage loan, you can apply through any financial institution or by personally visiting their branch office. You can also apply through the official website.
Follow the steps given below to apply for a mortgage loan online on the website.
Go to the Mortgage Loan to Property webpage
Check your eligibility from the Eligibility Criteria section. You can check the eligibility criteria on the website.
On the Mortgage Loan page, check the documents required for the mortgage loan
Click on the 'Apply Now' tab and fill in the required information, and submit the online form.
Once the officials are satisfied with your details, the institute will contact you.
You can also visit the nearest branch or outlet of the financial institution to apply.
How to Make Sure Your Loan Gets Approved
Getting a mortgage is not always easy. But with the right lender and the right loan, you can make sure that your chances of getting approved are high.
Here are some tips for finding a good lender:
– Check reviews and ratings online to get an idea of what other customers have experienced with that lender.
– Make sure they offer loans in your area and have competitive rates.
– Find out if they specialize in any particular type of loan or credit score type.
5 Common Mistakes That Prevent Their Mortgage Loan From Getting Approved & How to Avoid Them
Mistakes happen, and it is not always the fault of the lender. With so many different factors that can lead to a mortgage being denied, it is important to know how to avoid these mistakes. Listed below are 5 common mistakes people make when applying for a home loan/Mortgage and how to avoid them.
1. Not having enough cash on hand
2. Not making enough money
3. Having too much debt
4. Not being able to afford the monthly payments
5. Being self-employed
Conclusion
In this article, we have discussed What is Mortgage or What is Mortgage Rate in a simple and informative tone. If you had read the article completely then I hope you got the answer here that you were looking for. Thanks for reading the article.